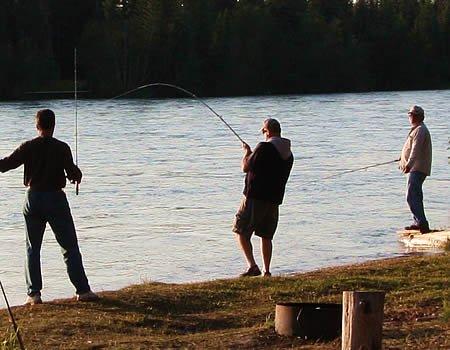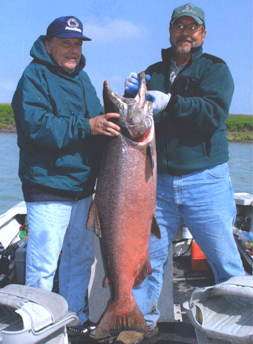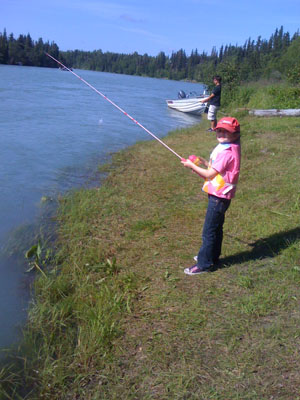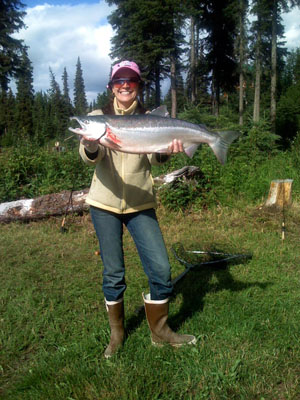 The Kenai River Cabins
at Sterling, Alaska
~ RENTAL CABINS ~
Your base camp for Alaskan Outdoor Adventures ~ Cabin Rentals ~ Fishing
Located on the banks of the famous Kenai River, our premier rental cabins sit on 5 acres of private waterfront with incredible sockeye salmon shore fishing. Our upscale vacation cabins are available for your use whether you are coming to the Kenai River for phenomenal fishing, wildlife viewing, as an executive retreat or a good old fashioned family sightseeing vacation.

The Eagles Retreat Cabin

Our largest Kenai River cabin, which we call the Eagles Retreat, offers top notch lodging, with 3 bedrooms, overlooking the river. You can prepare your meals in the fully equipped kitchen or barbeque your salmon on the deck BBQ; then after catching your limit of salmon from our private shoreline, sit around our firepit and tell fish stories.

The Bear's Den Cabin

Our newest Kenai River cabin, which we call the Bear's Den, offers upscale lodging, with 2 bedrooms, and sleeps up to 4 people. You can prepare your meals in the fully equipped kitchen or barbeque your salmon on the BBQ; After catching your salmon from our private shoreline, you can sit around our waterfront picnic
table and tell fish stories.
Fishing the Kenai River of Alaska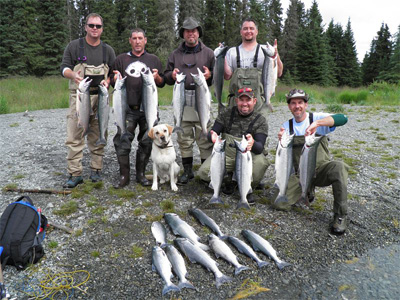 Our cabins are the perfect base camp for your unguided or guided daily fishing adventures with an opportunity to enjoy superb bank fishing from our property. When making reservations, please let us know your fishing interests and we will be happy to advise you on the best dates for unguided fishing on our property or arrange fishing guide services for you as part of a complete lodging and fishing package.

The Kenai river fishing is perhaps most famous for its giant king (chinook) salmon and world class rainbow trout. However, many anglers also target the Kenai rivers huge run of red (sockeye) salmon which most years exceed over 1 million fish entering the river over about a 4 week period. Fishing for other species such as silver (coho) salmon, pink (humpy) salmon and dolly varden is also available in the Kenai river as well as in other nearby rivers such as the Kasilof river and Quartz Creek. We are also only a short drive from saltwater, and halibut fishing charters are easily arranged.
Fishing for red (sockeye) salmon from the shore of our Kenai river private frontage is excellent during the peak season and is arguably the very best bank fishing on the river. This exclusive shore fishing is along over 350 ft. of private waterfront.
Our customized optional fully guided fishing and lodging packages are able to give our clients a full range of potential fishing opportunities for various species of Alaskan fish. Please see some examples at our fishing Packages page and for additional information on our guided fishing packages and our unguided shore fishing.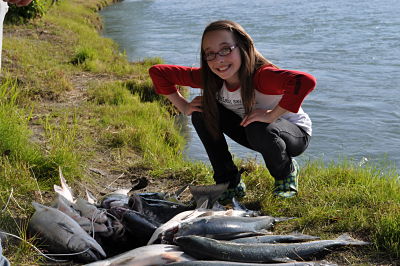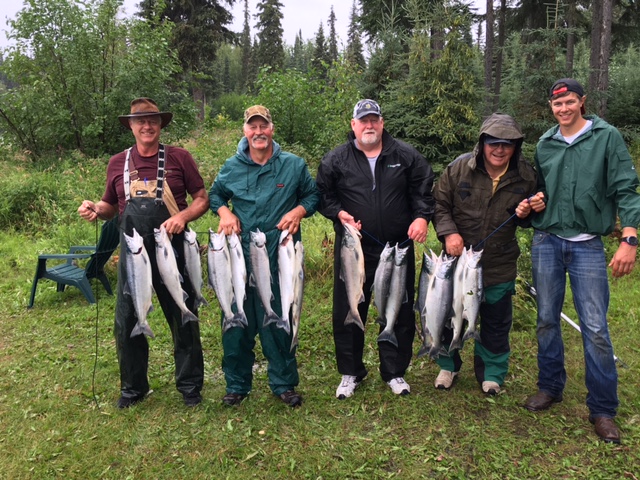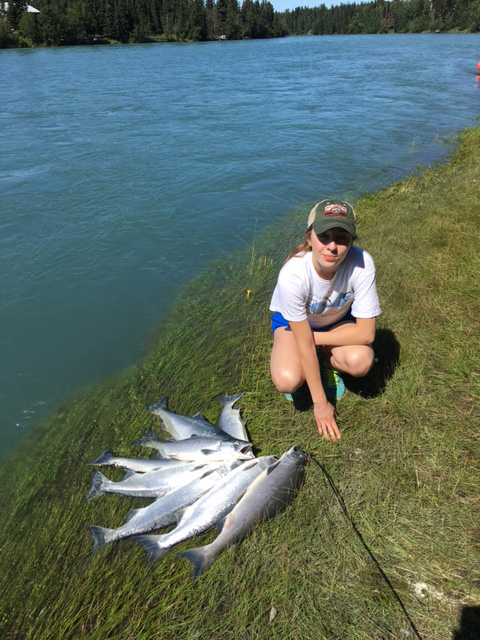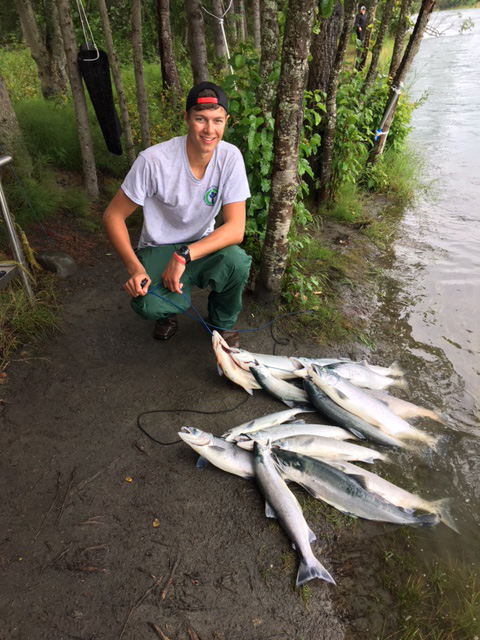 For more information, please follow the above links or contact us at:
The Kenai River Cabins
at Sterling, Alaska
Telephone: Winter (907) 248-5662
or Summers (907) 242-7245
Email: info@alaskaoutdoors.com

or