The Kenai River Cabins
at Sterling, Alaska




The best bank Salmon Fishing on
the Kenai River !



Cabin guests enjoy Salmon Fishing on our private Kenai River waterfront!
UNGUIDED FISHING.

- Shore fishing on our private 5 acres of waterfront. During the peak sockeye (red) salmon season, the number of our shore fishing guests is limited to provide the optimum fishing experience without overcrowding. The peak of the red salmon run at our location is usually from around July 7th through August 10th. Silver and pink salmon season runs from August through October and can also be caught from our shoreline during their migration up river.

- Fishing on nearby Kenai river public access shoreline. Our location near Sterling has great river access points for red salmon and silver salmon bank fishing on the Kenai River at Bing's Landing State Recreation Park ( 5 minutes away from our cabins), Izzak Walton State Park (located at the confluence of the Moose River and the Kenai River, 3 minutes away), Morgan's Landing State Park (about 15 minutes away), and Jim's Landing (about 30 minutes away).

GUIDED FISHING PACKAGES. We are pleased to refer our guests to experienced local guides, which fish with either drift or power boats on both the Kenai and Kasilof rivers. Our guides offer Day Trips out of our cabins as well as multi-day bookings. Our recommended fishing guides provide all quality tackle and bait including your choice of fly fishing, level wind, or spin fishing gear.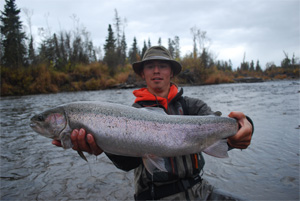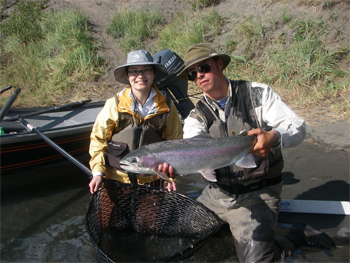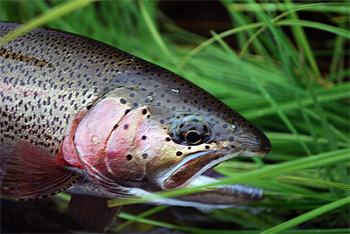 Our waterfront: the best bank fishing on the Kenai River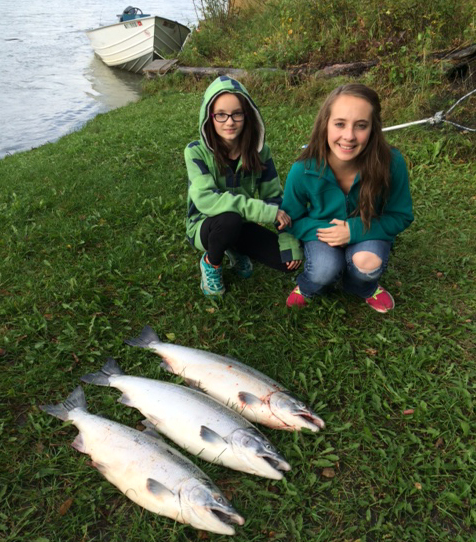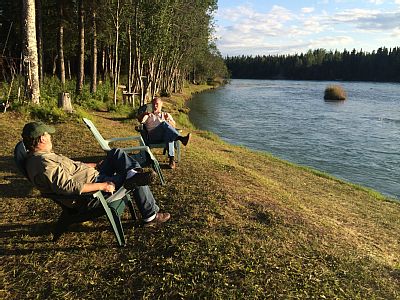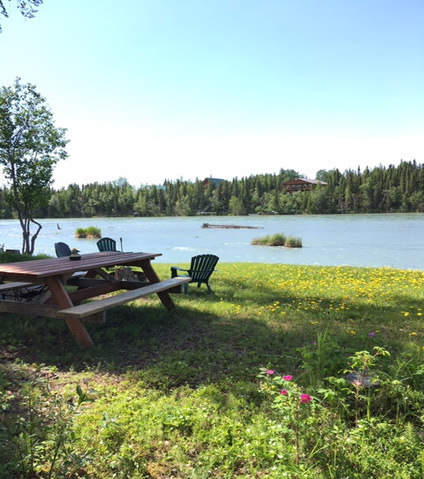 Check out our video of our waterfront fishing:
ALASKA FISHING SEASONS & INFORMATION

Run timing and seasons are generally as follows, but subject to change by ADF&G and mother nature:
May 1 - Sept 30 ~ ~ ~ ~ ~ ~ ~ ~Halibut
May 1 - June 30 ~ ~ ~ ~ ~ ~ ~ ~Saltwater Kings
May 1 - July 31~ ~ ~ ~ ~ ~ ~ ~ ~Kenai and Kasilof River Kings
June 10 - August 15 ~ ~ ~ ~ ~ ~Sockeye Salmon
June 15 - Oct 31 ~ ~ ~ ~ ~ ~ ~ ~Rainbow Trout
August 15 - October 30 ~ ~ ~ ~ ~ ~Silver Salmon
August / Sept on even years ~ ~ ~ ~ ~Pink Salmon

Fish species available on the Kenai River of Alaska and adjacent waterways:
Rainbow Trout

A trip to the Kenai Peninsula and river is not complete without a trophy rainbow trout fishing adventure. Trophy size rainbows of 30 inches or more are actually quite plentiful throughout the river. Last season saw plenty of Rainbows caught and released off our private riverbank although fly fishing from a drift boat yields the best results. If your goal is to consistently catch rainbow trout that are considered of trophy size, we do recommend a professional fly fishing guide for the best success. Please see our fishing "Packages" page for fully guided fishing options..


King Salmon (Chinook Salmon)

The Kenai River of Alaska is world famous for producing giant trophy King salmon. The world record was taken in May of 1985 weighing 97 lbs. 4 oz. Every year sees thousands of kings weighing between 30 and 80, even 90 lbs. Their fighting strength is legendary, and those that have battled these giants have memories that will last a lifetime. We have two runs of Kings entering the local rivers and fishing is typically best late May to mid June and the last half of July. Methods for taking Kings include back bouncing, back trolling, and drift fishing from boats, although they can also be taken from the river banks.


Sockeye Salmon (Red Salmon)

These silvery fighters average 6-12 lbs. and most of its muscle. These salmon begin to clog the Kenai River in late June and the run ends in mid August. New regulations aimed at protecting these salmon allow nearly one million sockeye to return to the river every summer and are available for sport fishermen. Since the Sockeye salmon tend to hug the bank, fishing is always done from shore. Methods include casting or flipping cohoe flies in a style found only on the Kenai River. Fishing limits vary from 3 to 6 salmon per person per day.


Silver Salmon (Coho Salmon)

Many anglers think silvers are the most fun of all the different species of Alaska salmon. These fighters are notorious for their acrobatics, burning up drags and snapping rods. Silvers average 10-14 lbs., with lunkers nearing 20 lbs. Season begins in mid August and ends October 31st. The peak of the silver run is generally from the last week of August through the middle of September. Methods include fly fishing and / or casting spinners, back bouncing, and back trolling. Ask about the Seward Silver Salmon Derby- this salt water fishery is in mid-August, has a six fish limit, non-stop action, and takes place in beautiful Resurrection Bay about 45 minutes from our cabins. Silver salmon can also be caught from the shoreline in front of our cabins.

Pink Salmon (Humpy Salmon)

Returning in even numbered years in late July through August, Pinks are the single most aggressive salmon that returns to the Kenai. Their sheer numbers and willingness to strike anything shiny makes them a favorite with kids, novice fishermen, and anyone who fishes for the thrill of the catch. Best eaten when taken fresh from the salt water, Pinks have a delicate white flesh that looses after they enter fresh water. River caught fish are best smoked or grilled immediately. Caught by casting spinners and spoons.

Halibut

Pacific Halibut: Both sides of the Kenai Peninsula are home to some of the finest halibut fishing available anywhere. Limits of halibut weighing between 20 and 50 lbs. are the norm, with halibut between 100 and 300 lbs. coming in daily. Charters leave from Ninilchik, Homer, and Seward, with every port having its unique advantages: boat size, trip length, travel time, and scenery. Combination trips fishing for King salmon and Halibut are very popular saltwater trips. Halibut fishing runs from May through September with King-halibut combos having the greatest catch rates in June. Halibut, ling cod, and rock fishing combos are also available.


The Kenai River Cabins
at Sterling
Telephone: Winter (907) 248-5662 ; Summer (907) 242-7245

Email: info@alaskaoutdoors.com