The Kenai River Cabins
at Sterling, Alaska
~ RENTAL CABINS and FISHING
CABIN RENTAL and BANK FISHING - RATES

The Eagles Retreat Cabin*

( Sleeps up to 9 in 3 bedrooms; includes
private bank fishing )

June 1st - 30th - $125 per person per night

July 1st - July 14th - $200 per person per night

July 15th - Aug. 15th - $295 per person per night

August 16th- August 23rd - $200 per person per night

August 24th- August 31st - $175 per person per night

September 1st - October 1st- $150 per person per night


* Includes lodging and unguided bank fishing from our private 350+ feet of the best salmon waterfront on the river. Rods, reels, nets, and waders are included. Discount or no charge for young children.





See more pictures of >>> The Eagles Retreat Cabin

The Bear's Den Cabin

( Sleeps up to 5 people in 2 bedrooms; includes
private bank fishing )


June 1st - 30th - $100 per person per night

July 1st - July 14th - $175 per person per night

July 15th - Aug. 15th - $275 per person per night

August 16th- August 23rd - $175 per person per night

August 24th- August 31st - $150 per person per night

September 1st - October 1st- $125 per person per night




* Includes lodging and unguided bank fishing from our private 350+ feet of the best salmon waterfront on the river. Rods, reels, nets, and waders are included. Discount or no charge for young children.





See more pictures of >>> The Bear's Den Cabin



Note: Rates vary by dates based upon the species and timing of various salmon runs on the Kenai River in front of our cabins. Please call us if you would like more information on peak run timing. Prices are subject to additional 3% tax / fees. For the safety and comfort of our guests, no pets are allowed. All cabins are non-smoking.

Advanced reservations are highly recommended to help insure your party's dates.
Fifty percent deposit is required to confirm reservations with the remaining
balance due 30 days before your arrival.
Master card or Visa accepted.


DIRECTIONS

There is only 1 road going South out of Anchorage so this is easy. From
Anchorage, take the New Seward highway South approximately 1 1/2 hrs. where
the road splits. Do not go left to Seward. Take the right branch of the
road toward Homer. You will be on the Sterling Highway which you should
continue on until you reach the small town of Sterling. At the Post Office
in Sterling take a left on Midway Drive. Proceed approximately .6 miles down Midway to Robbie Way, which is a dirt road.
Take a right on Robbie Way and proceed approximately 100 ft to the first dirt driveway on the right
(to sign that says "Jamesons") to go to our Eagle's Retreat and Bear's Den cabins.
Take the second dirt driveway on the right (bearing to the right) to go to our office cabin.
The telephone number to call is (907) 242-7245 in case you get lost or need further directions.
For More Information, please email us at richardajameson@gmail.com
or give us a call at (907) 242-7245
For information on our Cancellation Policy and Rental Agreement, click here.
Please read our Legal Waiver of liability for Outdoor Activities before booking.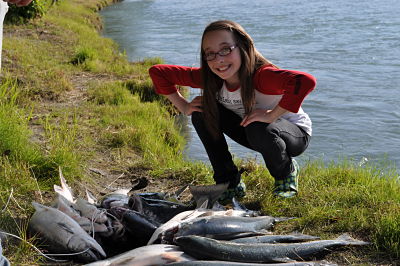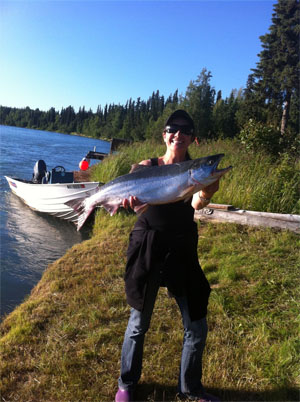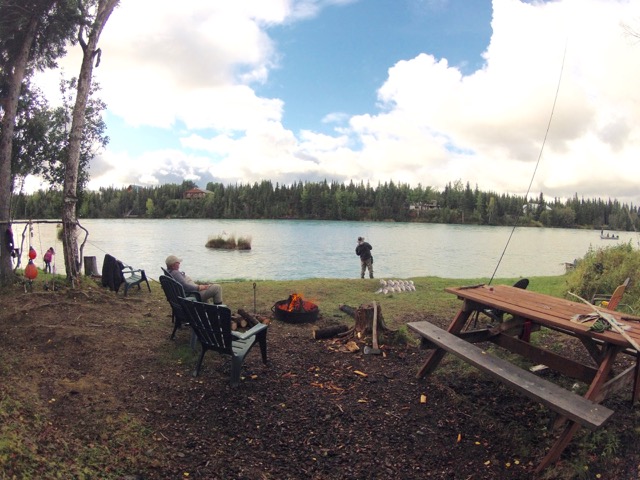 Customized lodging and fishing packages can be arranged according to your wishes.
Just give us a call for more information at the below telephone number.